KOYO Pure Water Produce Line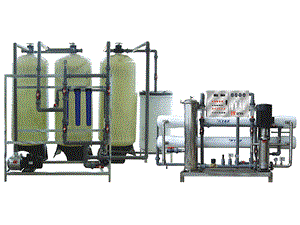 KOYO Pure Water Produce Line
Release Time:2015-09-07 15:16
Clicks:
It pure water produce line include the sand filter,carbon filter,resin filter,presicion filter,RO system and so on.
Details
Pre- treatment:
a) Quartz sand filter: It contains quartz sand filters for removal of ferric oxide, suspended articles from water. The tank is epoxy coating inside to protect rust.
b) ACTIVATED CARBON: It contains activated Carbon for removal of suspended solids, Organic matter and also removal of Taste, Color & Odor. It will be used for Dechlorination.? The tank is epoxy coating inside to protect rust.
c) PP sediment filter: To prevent granular active carbons from going into the main RO systems
d) Regenerable resin water softener to low down high water hardness ratio and soften the water, with automatic backwash control system.
Functions of the machine:

RO membranes auto wash and manual washRO membranes manual wash with chemical washPure water high water level auto stop, low water level auto startMulti-phases pump protected without water Protected when no power, poor power, larger electrical current, Short circuit, creepage of electricity

The technical preparation is based on the water analysis parameter in different areas. Water in different areas shows different features in the value of all kinds of parameter.
Specification:
| | | | | | |
| --- | --- | --- | --- | --- | --- |
| Model | P-RO-1 | P-RO-2 | P-RO-3 | P-RO-5 | P-RO-10 |
| Capacity | 1000L/H | 2000L/H | 3000L/H | 5000L/H | 10000L/H |
| Pre-Filter | 2000L/H | 4000L/H | 6000L/H | 10000L/H | 20000L/H |
| Ozone | 5g | 10g | 10g | 20g | 40g |
We can offer the capacity for RO Pure Water Processing Line from 1000L/H to 50000L/H,if interested in our this rquipments,please tell me the capacity you need,then I can offer the best price base on the capacity you need.
You may also be interested in the following product(s)
Contact Us
Company Name:

ANHUI KOYO BEVERAGE MACHINERY .CO.LTD

Address:

NO.669 WEST CHANGJIANG ROAD,HEFEI ANHUI CHINA

Mobile(Whattsapp):

+86-13856997681

Telephone:

+86(0551)-65692199

Email:

koyowater@gmail.com

Fax:

+86(0551)-65651988