KOYO Complete Water Sachet Produce Line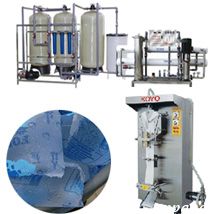 KOYO Complete Water Sachet Produce Line
Release Time:2015-09-06 15:00
Clicks:
It is the KOYO complete water sachet produce line,this line include the pure water produce line,pure water tank,koyo water sachet filling machine and so on.
Details
The complete produce line for Sachet water is include the pure water treatment with RO system,UV sterilizer,KOYO XY model Sachet Water Filling Machine.
Our all the equipment as follow:
Pure water Treatment With RO system 6000L/H
KOYO Sachet Water Filling and Sealing Machine
Pure water tank and sachet water filling and sealing machine
If the client interested in this produce line,please tell me which produce rate you need,for example 2000L/H,3000L/H or another produce rate,then we can make the suitable quotation for you.
You may also be interested in the following product(s)
Contact Us
Company Name:

ANHUI KOYO BEVERAGE MACHINERY .CO.LTD

Address:

NO.669 WEST CHANGJIANG ROAD,HEFEI ANHUI CHINA

Mobile(Whattsapp):

+86-13856997681

Telephone:

+86(0551)-65692199

Email:

koyowater@gmail.com

Fax:

+86(0551)-65651988